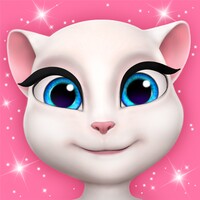 My Talking Angela
Take care of this adorable virtual pet and watch as she grows from a kitten to an adult cat
Version: 6.0.3.3500
Program available in: English
Program license: Free
Program by: Outfit7 Limited
OS:
Take Angela under your wing and nurture her upbringing.
Assume the role of Angela's guardian as you give her a fruitful life in the fascinating world of My Talking Angela. At first, your cuddly kitten will embody the same traits found in toddlers. She'll require constant attention and adequate tending to in order to thrive.
From mealtimes to bathtimes, your sole responsibility is to care for your impressionable feline. As Angela develops, she'll acquire new passions including shopping and makeup. With thousands of fashionable accessories and stunning cosmetics to choose from, the two of you will have a ball!
Users can opt to play mini-games, too. From Happy Connect to Bubble Shooter, there's loads of fun to be had. Just don't forget to give Angela the proper upkeep she needs to blossom into a beautiful cat.

Programs similar to My Talking Angela